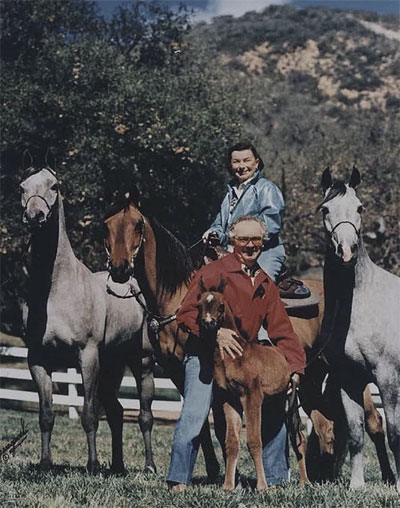 MAKING A DIFFERENCE, ONE HORSE AT A TIME ...
Ed Hogan, co-founder of The Hogan Family Foundation, always had a lifelong goal to help others. Being the youngest of nine children and growing up poor, he was unable to participate in many activities that other children enjoyed. He knew at a very young age that one day he would make a difference in the lives of less fortunate kids.
Ed discovered his love of horses at the age of 64 after purchasing a pure Arabian stallion named Merlyn at a charity auction. He began riding and showing Merlyn and spent a great deal of time at the ranch where he boarded Merlyn. As he grew to know the hardworking people who lived and worked there, he realized the youth in the area did not have the advantages of other kids.
Ed knew he could make a difference in their lives by providing a riding program that would help develop special skills, build their confidence and teach them discipline, responsibility and compassion for animals. In 2004, the Hogan Family Foundation purchased 22 acres in Hidden Valley, California and began the journey to enrich the lives of disadvantaged youth in the community.
Due to the success and demand of the Equine riding program, the Foundation purchased a second ranch located in Camarillo, California in 2007. Here, the focus is on the rehabilitation and care of horses that have been injured, abused or neglected in addition to equine therapy. The Camarillo location is also a sanctuary for older horses that can no longer be ridden. These retired horses have a place where they can live out the rest of their days in a safe and serene environment.